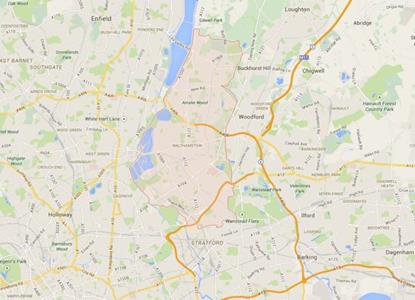 Waltham Forest is one of the most fascinating and beautiful boroughs of London. Known for its parks, it's culturally diverse market (which residents claim to be the longest street market in all of Europe), and it's historic royal connections, Waltham Forest is fast becoming THE place to invest in property in London. Previously, there was a very distinct north/south divide in Waltham Forest, with the north being known for its luxurious homes and the south predominantly comprising of more affordable flats, but the boundaries of this divide have become blurred within the past few years. Estate agents in Waltham Forest now claim that there is no 'wrong' area in Waltham Forest to invest in property.
With a population of just over 250,000, Waltham Forest isn't overcrowded or densely populated, but recent changes in terms of reputation and tourism mean that this figure is expected to surpass 300,000 by 2022. As one of the host boroughs for the London 2012 Olympics, Waltham Forest experienced a boost in both domestic and international tourism, and the area has seen numerous improvements as a direct result of increased government funding, including upwards of £22 million to improve roads, streets, and pavements, more than £5 million to improve the borough's green spaces, and better transport links to Central London. As a result, Waltham, Forest property sales are increasing rapidly.
Waltham Forest is considered to be an excellent area for families with young children, and for young professionals. The number of children and young workers is higher than the London average, while the percent of older residents is much lower, making Waltham Forest quite lively and bustling and with a very young and youthful atmosphere. In fact, just 10 percent of the Waltham Forest population is aged over 65, compared to the UK average of 17 percent.
Property Prices
While the average property price in Waltham Forest today is reported as being £269,825, the scope is actually huge. While there is certainly becoming less of a north/south divide in Waltham Forest in terms of employment, social status, and education, it still exists in terms of property values and is expected to do so until both areas of the borough truly merge into one. For those interested in Waltham Forest property investment, this is something worth thinking about. While properties in the south may be worth less now, it is expected that inflation will affect the north slower, narrowing the gap between the two. Savvy investors have already cottoned on to this, and property investment in Waltham Forest is rising rapidly. Reports suggest that for every property for sale in Waltham Forest, there are between 20 and 50 interested parties.
Currently, flats in Waltham Forest sell for an average of £188,830, whereas detached homes can reach as much as £607,250. Although this figures have risen by just 1 percent in the past year – a relatively low percentage compared to other London boroughs, prices have increased significantly in the past 10 years, with the average flat costing £155,761 in 2004, and the average detached home costing £329,138.
Fun Facts
• There's a huge arts scene in Waltham Forest, and many notable artists and musicians were either born or established themselves in the area, including Alfred Hitchcock, East 17, and Iron Maiden.
• Waltham Forest has more parks, fields, and green space than any other London Borough. Estate agents in Waltham Forest report a large number of families buying in the area for this reason.
• The Bremer, the first four-wheeled motor car in the UK to boast a combustion engine, can still be seen today at the Vestry House Museum in Waltham Forest. It first graced the roads here way back in 1894.