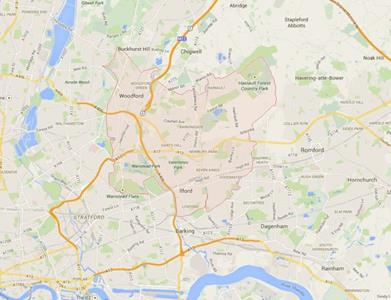 Redbridge is not only one of the most beautiful of London boroughs (it's numerous parks have even won awards for their breathtaking scenery and serene nature), but it's also one of the most fascinating. The area became hugely popular in the Victorian era as many prehistoric remains where found lurking beneath the streets, including a gargantuan mammoth! It's right here in Redbridge that you'll find the magnificent Valentines Mansion, the inspiring Redbridge Museum, and the Edwardian Goodmayes Park.
Redbridge is considered to be one of the best places in London for families to live, both families with very young children and for families with teenagers living at home. For small children, Redbridge's numerous parks are the perfect leisure activity, particularly Hainault Forest Country Park which boasts more than 300 acres of enclosed woodland paths, crystal clear lakes, and a myriad of rare plant life and animals. For families with older children, Redbridge reports some of the highest test results for GCSE and A Level in all of London, and certainly results that are much higher than the UK national average. Redbridge's excellent education has launched the careers of archaeologists, classical art historians, and world renowned novelists and professors.
Redbridge is certainly one of the most diverse boroughs in all of London. While the northern areas tend to have a large white population, the southernmost districts have large ethnic communities, with a very high proportion of Indian residents. The borough has evolved to meet the needs of all ethnicities living within Redbridge, so there's a fascinating blend of shopping districts, including Ilford Lane with it's rows and rows of Asian shops selling all manner of spices, beautiful jewellery, and silk sarees, and Barkingside which offers a wide range of independent boutiques and popular British chain stores.
As Redbridge is one of the more affluent of London boroughs, it's unsurprising to learn that the majority of homes within this area are owned outright by occupants, but Redbridge property sales to investors with a buy-to-let goal are still relatively common, particularly in the southern districts of the borough where employment rates tend to be a little lower, and the average salary creating a larger gap in affordability. Investors who buy to let in Redbridge should be targeting young families as their primary marketing technique.
Property Prices
The average property price in Redbridge is just over £300,000, which is slightly higher than in neighbouring boroughs. Flats in the south of the borough sell for around £190,000, while detached homes in the north sell for around £645,000. Interestingly, Redbridge is one of the only London boroughs whose property values have dropped in the past year. There has been an overall drop in prices by 1.5 percent, although based on past trends it appears that this will slowly but surely rise. Those interested in Redbridge property investment are being encouraged to snap flats and houses up quickly before the values once again begin to level out. Looking back just 10 years ago, the average property price in Redbridge was roughly £100,000 less than it is today.
Fun Facts One of Redbridge's most famous exports is Dame Maggie Smith, who was born in Ilford in 1934. Dame Maggie is well known for her roles in the Harry Potter series, Gosford Park, and, more recently, Downton Abbey. Redbridge is one of the greenest boroughs of London, with a whopping 25 percent of the area being covered in parks, gardens, and other beautiful green spaces. Redbridge property sales are common amongst families for this reason. While 75 percent of Redbridge residents own their own homes, it remains one of the most sought after destinations for property investment. Property investment in Redbridge is especially common in the south of the borough, where there's a higher proportion of flats.